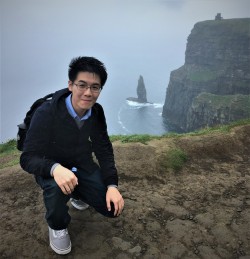 My name is Licheng Guo (郭栗橙). I am currently a third-year PhD student in the Department of Computer Science at the University of California Los Angeles, advised by Porf. Jason Cong. I received the B.S. degree in Electronic Engineering from Zhejiang University in 2018. 
I am interested in improving the high-level synthesis tool for FPGA.
I love travelling and aspire to explore every country of this amazing world. I also love music and currently I am actively practicing flute.
Contact:  lcguo [at] cs [dot] ucla [dot] edu
Publication: 
[FPGA'21] AutoBridge: Coupling Coarse-Grained Floorplanning with Pipelining for High-Frequency HLS Design on Multi-Die FPGAs
Licheng Guo, Yuze Chi, Jie Wang, Jason Lau, Weikang Qiao, Ecenur Ustun, Zhiru Zhang and Jason Cong
(* Best Paper Award *)
[FPGA'21] AutoSA: A Polyhedral Compiler for High-Performance Systolic Arrays on FPGA
Jie Wang, Licheng Guo and Jason Cong
[ArXiv] Extending High-Level Synthesis for Task-Parallel Programs
Yuze Chi, Licheng Guo, Young-kyu Choi, Jie Wang, Jason Cong
[ArXiv] When HLS Meets FPGA HBM: Benchmarking and Bandwidth Optimization
Young-kyu Choi, Yuze Chi, Jie Wang, Licheng Guo, Jason Cong
[DAC'20] Analysis and Optimization of the Implicit Broadcasts in FPGA HLS to Improve Maximum Frequency
Licheng Guo*, Jason Lau*, Yuze Chi, Jie Wang, Cody Hao Yu, Zhe Chen, Zhiru Zhang and Jason Cong
https://ieeexplore.ieee.org/document/9218718
[FCCM'19] Hardware Acceleration of Long Read Pairwise Overlapping in Genome Sequencing: A Race Between FPGA and GPU
Licheng Guo*, Jason Lau*, Zhenyuan Ruan, Peng Wei and Jason Cong
[FPL'18] SMEM++: A Pipelined and Time-Multiplexed SMEM Seeding Accelerator for Genome Sequencing
Jason Cong, Licheng Guo*, Po-Tsang Huang, Peng Wei, Tianhe Yu*  (Alphabetical ordering)
(* indicates co-first authors)
Github:
https://github.com/Licheng-Guo
Honors:
2017 Chu Kochen Scholarship, the highest honor for students at Zhejiang University (12 / All)